---
No upcoming shows scheduled
---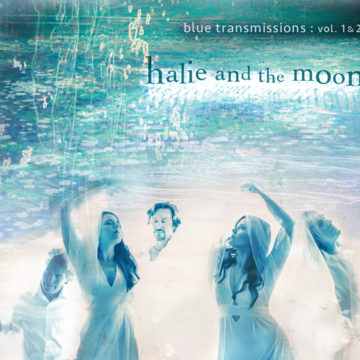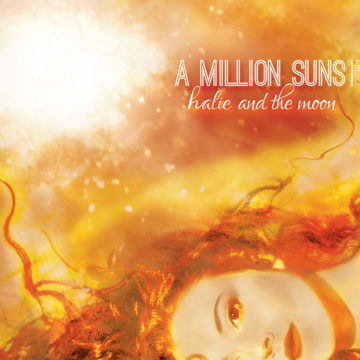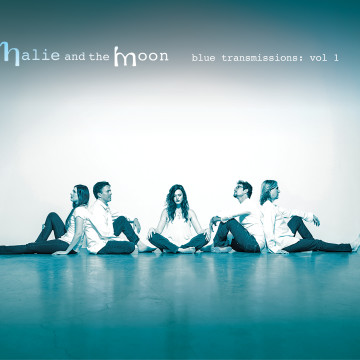 halie and the moon is now on SPOTIFY!
Listen to the brand new ``Blue Transmissions: Vol. 1 & 2`` and follow halie and the moon on SPOTIFY
---
About halie and the moon:
The music of halie and the moon traverses dreamscapes of love, mystery and celestial longing, with songs brought to life through lush vocals wrapped in the warmth of cello, piano and guitar. Infused with the lyrical rhythms of bass and percussion, the music builds and then strips away texture-rich layers to create worlds within worlds of sound.
halie and the moon found its way into the world in 2012 when the collaboration of internationally-acclaimed singer/songwriter Halie Loren and guitarist/songwriter Daniel Gallo sparked a powerful musical chemistry. The Oregon-based duo became a quintet in 2014 with the addition of drummer Beau Eastlund, bassist Bobby Stevens and cellist Katherine Dudney. The band has since written and arranged dozens of original songs, and has three releases to its name, including new full-length album "Blue Transmissions: vol. 1 & 2" (released May 2017 in the U.S., and in October 2017, the album was signed to JVCKenwood Entertainment for distribution in Asia) and two EPs: "A Million Suns: Vol. 1" (June 2016) and "Blue Transmissions: vol. 1" (November 2016).
The members of halie and the moon create music that speaks to their souls in a very real way. "It's not just the sonic feeling of it, but the content of each song feels to me like a poem, an ode to some sense of beauty and hope. This music unapologetically celebrates beauty and sounds beautiful. That's the intention, to really look for the art inside of the destruction, to remind me to live artfully. It's OK to appreciate beauty in times when it feels like things are anything but beautiful", says lead singer and pianist Halie Loren. Each member is truly invested in a shared vision of tapping into the beautiful mysteries of being human, being part of the world, and finding spaces of reverence and celebration within the bustle and sometimes harshness of the day-to-day in the modern age. "Somewhere in the music, there's a road map for a total aesthetic", says guitarist and primary composer Daniel Gallo. "I feel really privileged to play in a band where people are so good in knowing what silence to take away — silence in festive dress."
---
Reviews:
Review of halie and the moon's newest album, "Blue Transmissions: vol. 1 & 2"
Bluntly put, halie and the moon is a band comprising five crackerjack musicians whose creativity, chops and sophistication would be breathtaking to encounter in any setting, much less little old Eugene. Tapping a tradition of intricately orchestrated and yet infectiously catchy pop music — think Beach Boys, R.E.M., The Jayhawks — the band composes music that is at once earthy and disarmingly cosmic.
Review by Rick Levin for the Eugene Weekly
Read the entire review HERE.
Review of halie and the moon's "A Million Suns: Vol. 1"
A Million Suns, Vol. 1, is a great celebration of summer, love, and beauty, and in these days of so much hate and violence, an homage to love and beauty is to be cherished. The combination of Daniel Gallo's writing (and guitar playing), Halie Loren's vocals and the precise yet lyrical playing of Katherine Dudley on cello, Bobby Stevens on bass, and Beau Eastlund on drums bring together magical moments on the EP. I cannot recommend it enough.
Review by JT Frasier, music blogger.
Visit the blog to read entire review HERE
Review of halie and the moon's debut EP "Blue Transmissions: Vol. 1"
Blue Transmissions: Vol 1 wraps you into a lovely cocoon of eclectic sound not easily pressed into any genre while bearing the mark of this special collaboration of vocals, cello, bass, acoustic guitar, and drums …While, along with Ms. Loren's voice, it is Ms. Dudney's cello that colors the unique sound they produce, the band melds so well that you would think they've been together for years. This is evident from how well they play very different types of songs in the jazz/pop of The Story to the ethereal ballad of Winter, the jazz/funk of Breathe and the folk/pop of Into the World. Listening to them fuse together the musical backdrop of the story given in Into the World is particularly mesmerizing … an EP filled with delights.
Review by JT Frasier, music blogger.
Visit the blog to read entire review HERE
---